Soldering equipment - a haphazard inventory
Awhile ago, I acquired some soldering irons and assorted accessories. I am particularly excited about what I think is a temperature control for the soldering iron? I'm excited to swap out my current stand for this much sturdier looking stand. I also want to see how well these other irons work compared to the cheap-o one I have.

Too bad that as of 3/19/2020, all of California has been put on a shelter-in-place.
And I left it all at my studio with the intention of grabbing them soon. Oh well! I'll make do with what I've already brought home from my studio.
I LISTENED TO MY FIRST SATELLITE!
It was spontaneous and rushed, but I still got outside right in time to listen to about a minute or so of what sounded like a very expert group of people making contacts with each other as efficiently as possible, very clearly.
It was short-lived. I ended up catching about 5 minutes total of AMSAT's AO-92 overhead, and it got pretty noisy pretty quickly as the satellite moved passed.
It's really cool that I can pick up satellites right out of the box with the Yaesu FT-60R and its stock antenna. I'm hoping once the yagi's built that I'll be able to get a clearer signal for longer during these satellite passes. And then, of course, when I'm licensed, maybe get a contact or two myself!!!!!!!!!!!!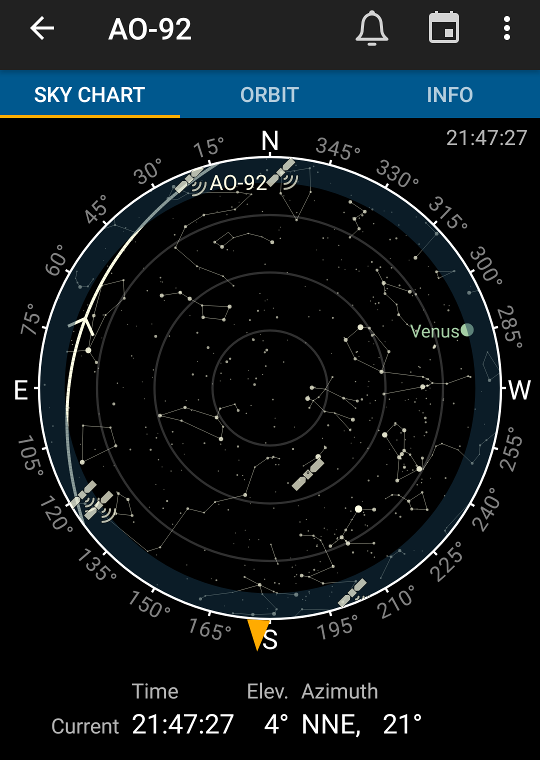 More time to study?
Class is cancelled; I got laid off from work.
I plan to continue studying for my career exam, but I've decided that I now have time to do some technician license reading and studying as well. Why not, in the Apocalypse, right? I'm currently reading the basics in Alex Wulff's Beginning Radio Communications (BCR), which is a book of projects to teach radio concepts. I haven't gotten into book projects yet (and I doubt I can justify buying anything for them with the pandemic going on). I'll probably move to another book when I get to that point. And to top it off, I have KB6NU's No Nonsense Technician Class License Study Guide which I've been hopping around in as well.
I've also dusted off the MFJ-557 morse code practice oscillator my dad bought me (probably around March of last year, before I had even started my schooling). CWOps' CW Academy recommends using a paddle, not a straight key, but… I haven't built a paddle and keyer yet, and I have what I have and nothing more, so I'm gonna go for it! I'll start with Learn CW Online.
Otherwise, I'll continue picking away at the tape measure yagi once I figure out unemployment…